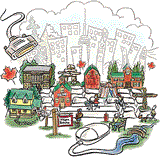 FUNDING SUPPORTED BY:
Community Access Program (CAP)
The Community Access Program (CAP) is part of the federal government's intiative to make Canada the most connected country in the world. Launched in 1994, CAP's goal is to establish 10,000 public access sites to the Internet throughout Canada.

The Internet has become a powerful tool for economic and social development in today's global, knowledge-based economy. The Goverment of Canada is committed to providing affordable access to the internet to all its citizens, especially low-income, disadvantaged and young Canadians.